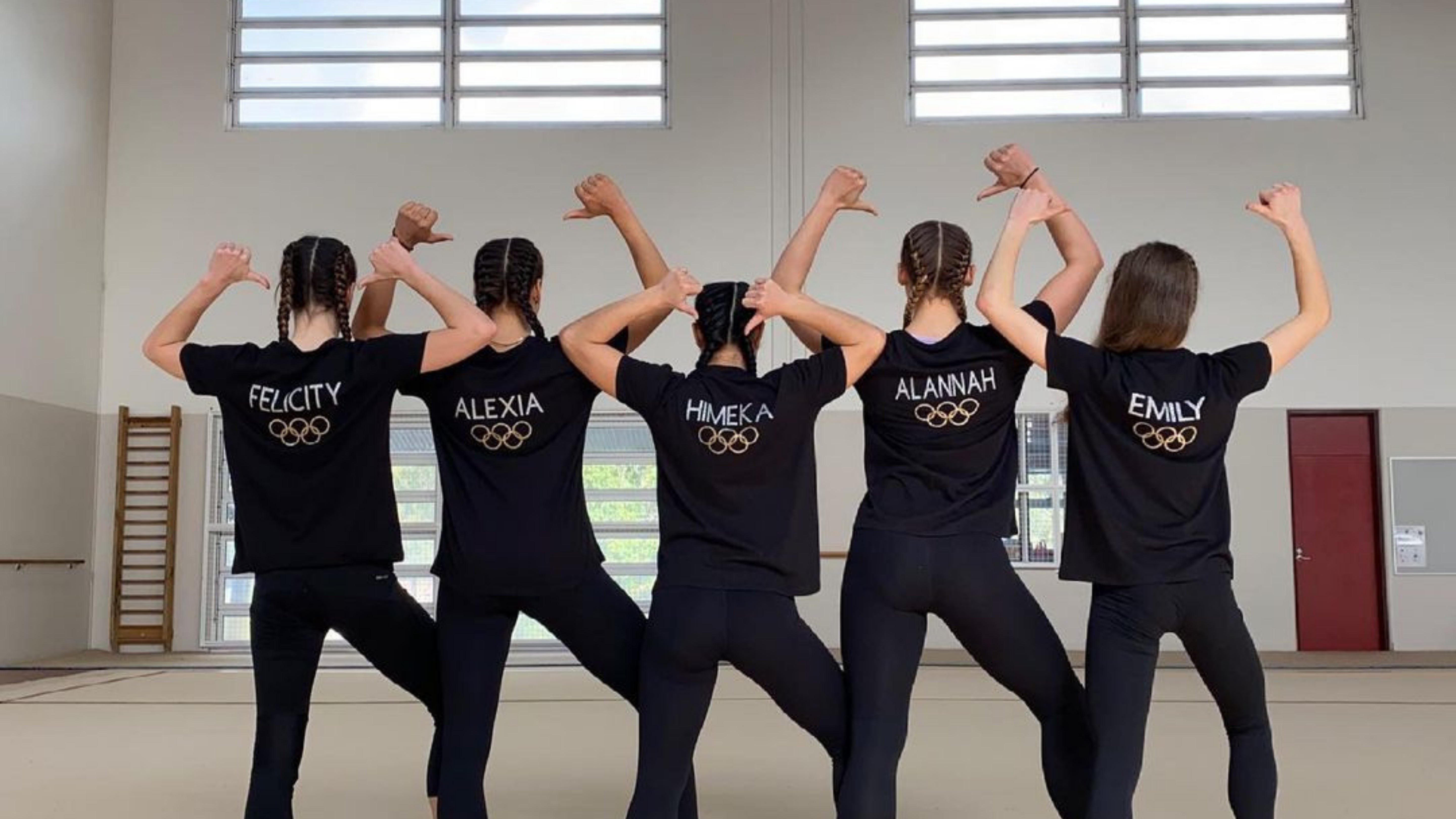 With the Rhythmic Gymnastics Team set to compete at the 2020 Tokyo Olympics this Friday, the Gym Spot would like to shed light on these athletes and all that they have achieved prior to their Olympic debut. It's the first time in Australian Olympic history to have representatives in both Rhythmic Gymnastics Individual and Group. We are so excited to see our Aussie Team finish this amazing journey with a bang!
Iakovleva is 17 years of age and her home club is Aspire Gymnastics Academy in Brisbane. Russian- born, Lidiia was first introduced to the world of sport when she started to dance, however, gymnastics was popular in Russia at the time so she transitioned over and continued the sport once she moved to Australia at the age of 7.
Her successes started to really take fruition in 2013, where she placed 3rd in the international 7 junior division at the National Championships.
Iakovleva then attended a gymnastics training camp in Russia which really set her up for success within gymnastics. This experience not only gave her self belief and confidence, but it also gave her a sense of realisation that pursuing an athletic career in Rhythmic Gymnastics was something she really wanted to achieve. From here, Iakovleva placed 1st in the 2016 Pacific Rim Championships (5th in the All-Round championships and bonze in the Club Final), 2nd in the 2017 National Championships and also ranked first overall after winning gold in all four of her finals at the 2018 Youth Discipline Games.
Iakovleva is due to make her debut at Tokyo 2020 today. All the best!
Rhythmic Group
The Rhythmic Gymnastics Group consists of team members from the Australian Senior Gymnastics Group, QLD. The group have been known to be highly successful when it comes to participating in the sport of gymnastics, as they have had the long-standing rank of #1 in Rhythmic Gymnastics in Australia, and have also won 6 consecutive National Championships.
The group has also had amazing opportunities, such as competing at World Cups in Pesaro, Italy and Sofia, Bulgaria. In Sofia, they managed to rank 28th, with a final score of 28.925, which awarded them the International Athlete Award of Excellence at the Gymnastics Queensland Award Night.
All Rhythmic Group members attend university, and having done so landed them the ability to perform as part of the UniRoos team at the Napoli Summer Universiade in 2019. Doing so, they ranked 6th place across the board.
They hit their personal bests when it came to performing at the Pacific Rim trials in Sydney in 2020 and were also victorious at the 2021 Continental and Oceanic Championships.
Meet Australia's first-ever Rhythmic Gymnastics Group to compete at an Olympic Games!
Alannah Matthews is 22 years of age and was born in Western Australia. Her home club is Premier Gymnastics Company in the Australian Senior Gymnastics Group in QLD, and she is one of five of the athletes participating in the Rhythmic Group Gymnastics event at the 2020 Tokyo Olympics.
Growing up, Matthews was constantly surrounded by gymnasts who had competed nationally and internationally, and this had a very heavy influence on the person that she is today. This influence leads her to move interstate from her home in WA to train in the Australian Gymnastics Group.
24-year old, Alexandra Aristoteli was born in New South Wales. Aristoteli was introduced to the world of dance before she found her true passion for gymnastics. She first started out at the age of 4 doing ballet, which then progressed to a more serious profession by the time she was 15, as she was training full time. During her time as a dancer, she had spent months training overseas, with prestigious institutes such as the Houston Ballet Academy and the Miami City Ballet School in Florida.
Aristoteli had a change of heart, and after training for years in the field of dance, she decided that Rhythmic Gymnastics was the career that she wished to pursue instead, and contributes insanely to the Australian Gymnastics Group in Queensland.
Emily Abbott is 24 years old, and her home state is South Australia. Within her childhood and the beginning of her adulthood, Abbott had excelled within the sport, as she has competed at the Australian Nationals and New Zealand Championships.
In 2016 and 2017, however, Abbott was out of the game due to injury. This had lead to many questions as to whether or not she would be able to compete again, but due to her consistency in regards to her rehabilitation, she came back better and stronger than ever and competed in the Emirates Asian Asian GCC Cup and the DuGym Cup.
Abbott then joined the Australian Gymnastics Group in October 2018.
Felicity is a 20 year-old Queensland local. White also originates from the field of dance, as she spent a lot of time studying at the Queensland National Ballet School in Brisbane. She had also spent a lot of time training in various sports until she officially started gymnastics at the age of 9.
This soon evolved into gymnastics and pinpointed the start of White's Rhythmic Gymnastics career, which in turn secured her a spot in the Australian Gymnastics Group. Her dream to be an Olympian has always been a childhood dream of hers and she was heavily influenced by her grandfather, who competed in the Melbourne Olympic Games in 1956.
Her dream has become a reality in 2021, as she and the rest of the group have not only achieved their own individual dreams to make their Olympic debut, but they are also making history, as they are the first-ever Rhythmic Gymnastics Group to compete at the Olympics.
Himeka Onoda grew up in Brisbane, Queensland, with her whole family originating from Japan. She is 23 years old and has achieved so much in such a short lifespan of time, starting out as an amateur gymnast and has now successfully earned the badge of honour as a senior levelled gymnast. Onada is also currently one of the longest-standing team members of the Australian International Senior Group.
The Olympic Games will be a sentimental and special moment for Onaka as her mother passed away last year. The Tokyo Games will be a thank you and dedication to her biggest support, motivator and the person who has helped her work towards the Olympics, her beautiful mum.
Watch our amazing Rhythmic Gymnasts represent Australia today and this weekend on Seven or 7plus! Who are you most excited to see? #TokyoTogether