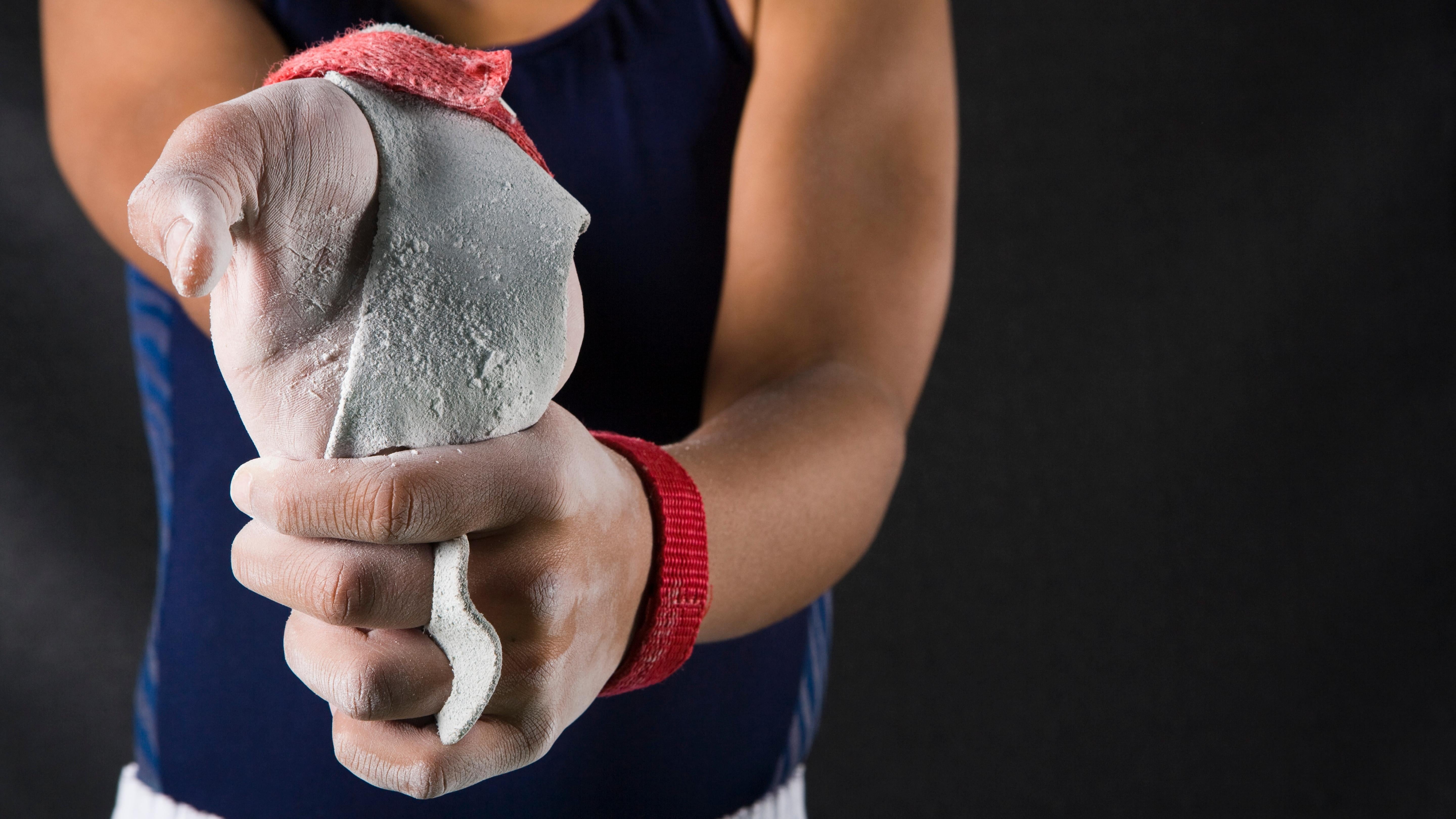 According to Physiotherapist Dani Davey, weight-bearing exercises such as handstands, bridges, planks and tumbling can cause frequent wrist pain in gymnasts, cheerleaders, acrobats and dancers. To prevent wrist pain or injury, it's important that athletes work on their motion extension and strength exercises before doing any of these movements.
The below image portrays the recommended motion of extension.
Measure the angle between the forearm and palm. Gymnasts need at least 90°, preferably at least 100. 
To improve your extension, try this exercise:
1.Hand flat on the floor, fingers pointing backward. If there is pain or stiffness, bring the hand back closer to your hip to make it easier. 
2. Gently lift each finger up and down a couple of times to stretch out the muscles attached to them. A stretch might be felt in the wrist, hand or forearm. Stop if there is any pain.
3. Last, gently circle the shoulder over the wrist.
Check your movement again after. Stop straight away if you experience any pain in this exercise.
It is also important to have strength and control of your wrist extension. Try this:
1. Palm flat on floor, fingers pointing away from you. Shift your body forward so the wrist is in a comfortable amount of extension (no pain!)
2. Trying to keep the hand horizontal and the elbow straight, lift the palm off the floor.
Repeat x10, trying not to let the wrist angle down.
Final tip: If you have pain or stiffness in the wrist during an exercise at gymnastics, check the position the wrist is in. If you are in a more extended position than you have strength or movement for, this can cause pain. 
Try adjusting your position to take the pressure off, at least until you have worked on your strength and mobility.
Check out this video for a more in-depth explanation!
Train safe and enjoy! Also don't forget to check out Dani and the team at Edgeworth Physio on their socials! For injury prevention for lower back pain, click here. 
**This information is educational only and is not medical advice. If you have an injury or pain, you should see a health care provider.**