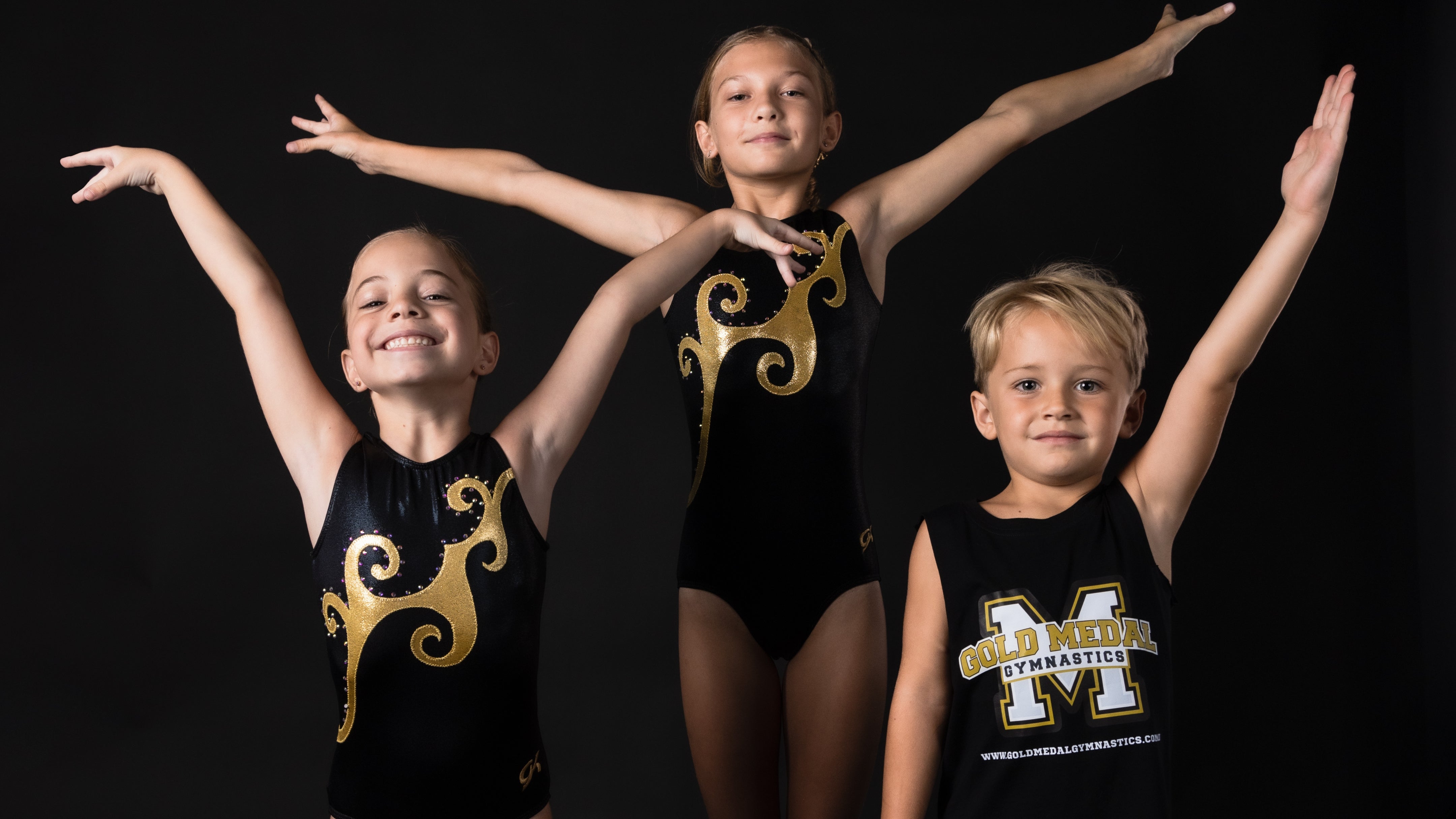 This week's Club Focus spotlight shines on Gold Medal Gymnastics and the passionate duo behind it, Liz and Bogdan Uruci. Read on as they share an insight into their journey of starting Gold Medal Gymnastics, their vision, and the programs offered at the club!
1. How did your club start?
After 17 years of coaching in clubs across Romania, Dubai and Australia, and having welcomed a baby into his home, Bughy decided he wanted to create a space that nurtured athletes from babies to competitive gymnasts. He wanted to create a space where children and parents would become part of a broader family community. So with investment in equipment and securing a local sports venue, Gold Medal Gymnastics was born. We have been setting up and packing away every day for the past 20 months and will soon be moving into a brand new permanent facility, which means no more setting up and packing away.
2. How many kids do you train and what skills?
We train over 80 children on a weekly basis, all levels from babies to adults. The children are learning the fundamentals of gymnastics while having fun in a small boutique environment.  It is really important to us that they learn these skills well so they can enjoy gymnastics safely, so we drill down on small details to make sure they have a really strong technique.
3. Do you have any special needs programs?
We currently have a sensory friendly program which is a smaller class and has less sensory input than other classes. The beauty of our small family friendly club, is that we can make sure we offer classes that are welcoming and comfortable for all abilities. We also coach privately some athletes who thrive in the 1 on 1 space.
4. What's your club's vision statement?
Our Vision Statement is "To offer the best gymnastics program, for all levels and abilities on The Gold Coast." We believe that the focus should be on every gymnast in every class, that they be taught well and feel part of our family. We will remain a small club so we can nurture the cohesive family atmosphere that we have built so far. Like the children, we too have a vision for greatness and in saying this, we will be launching our competitive program when we move, we will also be focusing on exceptional customer service to ensure that our families don't feel like a number. By keeping our club small we can ensure that level of service and coach/athlete relationship. 
5. What are some of the objectives of your program? 
Physical Development: Foster overall physical development by improving strength, flexibility, balance, coordination, and endurance in participants of all ages.
Early Motor Skills: Help babies and toddlers develop fundamental motor skills such as crawling, rolling, and basic hand-eye coordination through age-appropriate gymnastics activities.
Body Awareness: Enhance body awareness and spatial orientation for young participants by introducing them to various gymnastic movements and positions.
Confidence Building: Promote self-confidence and self-esteem in children and teenagers by setting achievable gymnastics milestones and providing a supportive environment for skill acquisition.
Social Interaction: Encourage social interaction and teamwork among participants through group activities and partner exercises, helping them develop interpersonal skills and cooperative behavior.
Safety Awareness: Educate participants of all ages about proper safety techniques, including safe landings, controlled movements, and the importance of adhering to rules to prevent injuries.
Progressive Skill Development: Implement a progressive curriculum that gradually introduces more complex gymnastics skills as participants advance through age groups, ensuring a continuous challenge and growth.
Creativity and Expression: Provide opportunities for artistic expression and creativity within gymnastics routines, allowing teenagers to explore choreography and musicality as they develop their skills.
Healthy Lifestyle Habits: Promote a healthy lifestyle by emphasising the importance of regular physical activity, proper nutrition, and rest for maintaining optimal performance in gymnastics and overall well-being.
Fun and Enjoyment: Create a fun and engaging environment that fosters a lifelong love for physical activity and gymnastics, ensuring participants of all ages find joy in their gymnastics journey.
6. What are you most proud of with your club?
We are proud of the amazing culture that has developed within the club and our member families. We love the fact that we have so many families who are passionate about seeing the club grow to its full potential. The culture that has therefore evolved is one of teamwork, compassion, positivity and hard work. And we love seeing all the kids coming every week, ready to work hard with big smiles on their faces.
7. Why do you think your club is important to families and your community?
Because we are able to give the local kids the opportunity to improve their confidence and learn life skills. We are able to offer high level coaching to beginner gymnasts through Coach Bughy's years of experience. This means the kids are able to progress further and have a deeper understanding of the fundamentals as recreational gymnasts.
8. What's a piece of advice would you give to a gymnast/student?
Failure is ok. NO ONE can learn without making mistakes and failing. With the right guide, mistakes and failure provide us with valuable feedback on what we did wrong and what we need to change for next time. Without making enough mistakes, you can never go from beginner to expert.
If you'd like to know more about Gold Medal Gymnastics, you can visit their website or Facebook page!