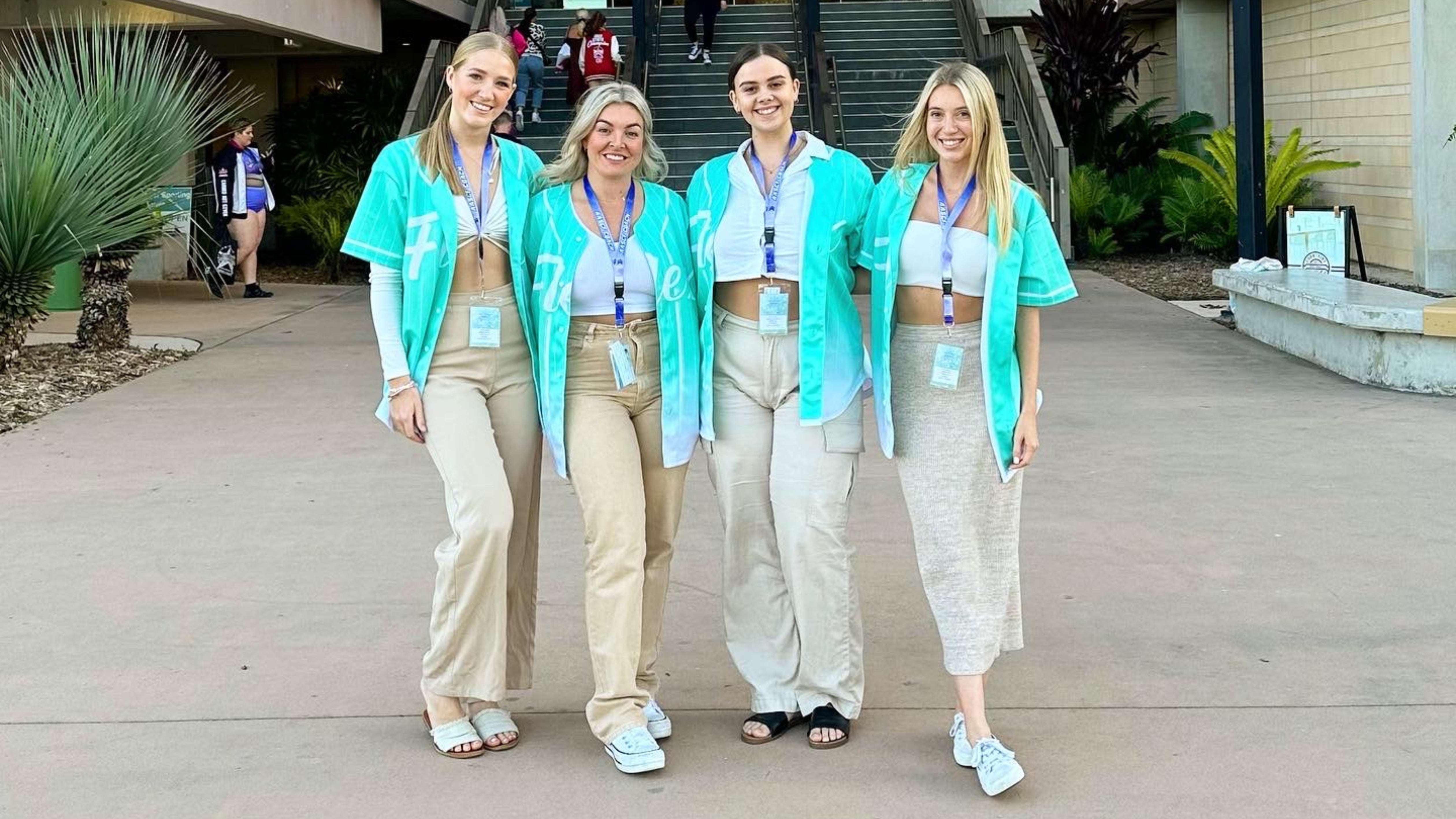 In our latest Club Focus feature, we had the pleasure of speaking with Stacey White, the owner of Flex Gymnastics & Cheer. With a focus on holistic development and a supportive community, Flex GC inspires athletes of all ages and skill levels to reach their full potential. Read on as we delve into Stacey's inspiring vision, the outstanding programs offered at the club, and the vibrant atmosphere that defines Flex GC.
1. How did your club start?
Our club has just recently had a change of ownership and with that, a complete rebrand; we got a new colour (mint green), a new name (Flex GC) and a brand-new program. Although we are 'new' our gym, previously known as Currumbin Gymnastics' had been in action for 20 years and prior to that (Energy Gymnastics) had been running for another 5-10! The new owner was a gymnast at that gym 25 years ago and through all the changes of ownership, grew up as part of the equipment here in this very studio. After being involved in the sport, a member of this club for 25 years and coaching for 19 of those years, buying the gym she called home seemed fitting. Now as the owner, Stacey gets to deliver what her gym always gave to her; a safe environment to experiment, learn, fail and succeed. A family outside of her own, friendships, life-long lessons and so much more.
2. How many kids do you train and what skills? 
We have over 200 athletes which range from walkers up to 60 years of age!! We place the needs and aspirations of our athletes at the forefront of everything we do. Our programs are tailored to accommodate various skill levels, from beginners to elite competitors. We provide a comprehensive curriculum that combines technical training, progressive skill development, and a focus on safety. We teach a variety of skills starting with climbing, swinging and jumping for our littlies. We have athletes working on handstands, rolls and cartwheels ranging all the way up to our highest-level skills being taught in the gym, which is currently twisting in tumbling. We have athletes who are working on arabians and full-twists on our Gymnastics Direct Tumble Track and Inflatable Foam Pit. 
3. Do you have any special needs programs?
Currently, we do not have a specified special needs program but we do work closely with the Special School in our suburb and have been looking into special needs programs with the NDIS.
4. What's your club's vision statement?
Empowering Athletes, Inspiring Excellence.
At Flex GC, we envision a community where athletes of all ages and skill levels can thrive, grow, and achieve their fullest potential. Our vision is embedded in the belief that through the power of gymnastics and cheerleading, we can instil lifelong values, foster personal development, and cultivate a passion for athleticism. We believe in nurturing the holistic development of our athletes, encouraging their creativity, and fostering a love for the artistry of gymnastics and cheerleading.
At Flex GC, we are driven by our vision to empower athletes, inspire excellence, and create an inclusive community. Together, we shape the future of gymnastics and cheerleading by cultivating athletes who excel in the sport, embrace lifelong values, and become catalysts for positive change in the world.
5. What are some of the objectives of your program?
Empowering Athletes:
We are dedicated to empowering our athletes to become strong, confident, and resilient individuals. By providing a supportive and inclusive environment, we encourage them to push beyond their limits, overcome challenges, and discover the depths of their abilities. We believe in nurturing their physical, mental, and emotional well-being, fostering self-esteem, and promoting a strong sense of teamwork.
Inspiring Excellence:
We strive for excellence in all aspects of our gymnastics and cheerleading programs. Our coaches are committed to delivering exceptional instruction, guidance, and mentorship. We inspire our athletes to set ambitious goals, pursue their dreams, and continually raise the bar of their performance. We believe in cultivating a culture of discipline, dedication, and continuous improvement, laying the foundation for lifelong success on and off the mat.
Inclusive Community:
We embrace diversity and create an inclusive community where every athlete feels valued, respected, and supported. Regardless of their age or ability, we celebrate individuality and encourage personal growth. We foster a sense of belonging, forging lifelong friendships, and promoting a supportive network that extends beyond the gym. We believe that together, we can achieve more and create lasting memories that transcend the boundaries of sport.
6. What are you most proud of with your club?
The vibe; as soon as you walk into our studio, you feel 'it'. There's no way to describe it, you just feel it. There's something about watching athletes walk through the door with their families, all bearing a smile that really sets my heart on fire. I'm proud of our coaches, the way they interact with their athletes and show genuine care, love, support and excitement for all that they do. I'm proud of our athletes; the way they encourage each other, take risks and trust their coaches to help them through their fears. I'm proud of our families, the parents and carers that work tirelessly to put their kids through gymnastics and cheerleading and then become bound by a schedule of pickups and drop-offs but somehow do it all with a smile. I'm proud of our community, the family we have created.
7. Why do you think your club is important to families and your community?
Beyond the gym walls, we strive to make a positive impact on our local community and beyond. We actively participate in outreach programs, charitable initiatives, and community events to give back and inspire others. By showcasing the values of dedication, perseverance, and teamwork, we aim to be role models, instilling a passion for physical fitness, and promoting the importance of leading a healthy, active lifestyle.
No community exists in a perfect bubble; every family has their ongoings behind closed doors. For many families, our club is the perfect outlet. Whether it be a place to switch off, a place to exert extra energy, a place to let out frustrations, a place to have fun, to challenge, inspire and create. Our club offers the opportunity to create core memories in our athletes' lives. What could be more important than that? 😊
8. What's a piece of advice would you give to a gymnast/student?
Have fun, try your best, know you've tried your best and enjoy the journey of failures. No success is truly appreciated without the struggle to achieve it so be sure to have fun along the way.
And please squeeze your knees and point your toes… 😉
Ready to embark on an extraordinary gymnastics and cheerleading journey? Be sure to check out their website to learn more!