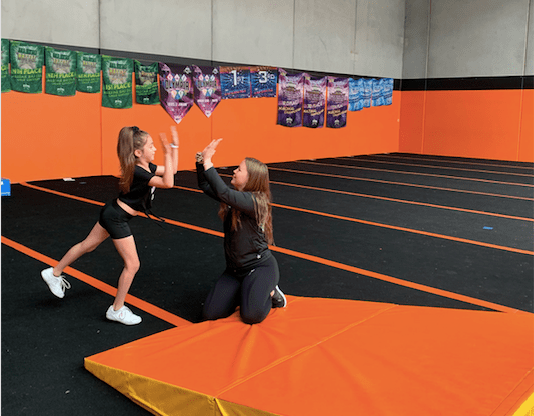 Odyssey Sports works with schools and clubs around Australia with a focus on improving athlete's techniques and helping them overcome their mental obstacles. Tessa Petrie, owner, and director of Odyssey Sports takes us through her new venture towards giving back to the gymnastics and cheerleading community. Read through to find out more about their program!
1. How did Odyssey Sports started?
Odyssey Sports was a dream of mine since I was 14. I travelled almost every year for international cheerleading competitions but was always struggling with injures and difficulties learning new tumbling skills due to physical and mental barriers. I noticed that it was because of the lack of technique I was being taught. We were taught to 'just throw it' when learning a new skill and that resulted in me not trusting my body and obtaining mental blocks. It was the last thing I wanted for younger athletes. It was a horrible feeling and I didn't want anyone else to go through the mental and physical battles that I experienced and lose their love for cheerleading when it came to learning new skills and being successful. This is what lead me to Odyssey Sports. After becoming a qualified cheerleading and gymnastics coach, finishing school in 2016, spending a year in America competing on my dream team, I decided it was time to take the next step in helping athletes achieve their dreams. We've been running clinics and classes around Victoria for a year now spreading the love in the cheerleading community! We want to bring back the fun and in the future we will be running Summer Camps on the Mornington Peninsula where athletes can attend to practice the sport they love without the pressure of training for a big competition!
2. How many kids do you train and what skills?
We aim to have an impact on as many athletes lives as possible! We are not an individual club so we train many athletes and teach skills from the fundamental handstands, cartwheels, forwards rolls and backwards rolls, all the way up to the higher levels of full twisting layouts and many different tumbling series that could involve Arabians, front saults, whips etc. We also teach the other aspects of cheerleading (jumps, dance, stunts) as well as having a Ninja program that we run within schools teaching FreeG type skills.
3. Do you have any special needs programs?
We do not have a specific special needs program but everyone is welcome within our classes, clinics and workshops! Myself and our other coaches have had ample amounts of experience working with special needs. We believe everyone should have an equal opportunity to learn and have fun.
4. What's your vision statement?
To empower upcoming athletes and coaches to continue learning in all aspects of cheerleading and life and to inspire happiness and positivity. We aim to encourage athletes to create their own epic journey!
5. What are some of the objectives of your program?
To bring a holistic style coaching approach to cheerleading. Focusing on the athletes physical AND mental wellbeing (which is so often forgotten about) during practice times.
Teach safety!! Specifically for avoidance of injuries. Teaching correct technique and safety landings is a one of our core values.
To inspire athletes to recognise the small wins, be proud of their progress and feel comfortable in their own skin and trust their training.
6. What are you most proud of?
Definitely the positive feedback we've received from parents and athletes after attending an Odyssey Sports clinic but most importantly the look of excitement on an athletes face when they overcome a hurdle, achieved a new skill or learn to believe in their own self, is something we will always be proud of.
7. Why do you think Odyssey Sports is important to families and your
community?
A parents only request is for their child to be happy, healthy and safe, all of which are Odyssey Sports main objectives.
8. What's a piece of advice would you give to a gymnast?
Follow your dreams! Don't take NO for an answer. If you have a dream, work towards that dream every, single, day, no matter who or what gets in your way. You can achieve anything you set your mind to with a little bit of hard work, dedication and action. The world is your oyster.
Start your journey with Odyssey Sports! Check out their website or give them a follow on Instagram or Facebook.
Want your gym to be featured on Club Focus? Contact us to find out how to get involved!